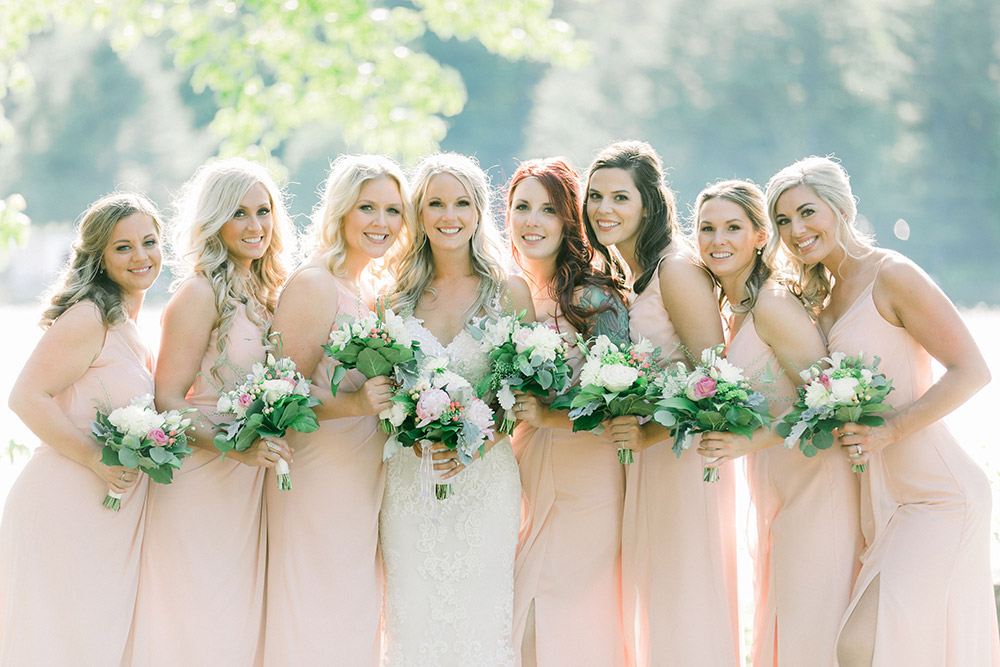 First and foremost, we are seeing a trend towards making the BRIDE the center piece once again!
Bridesmaids are going back to basics and wearing more of the same dress in the same color or the same color but different dresses. When the bridesmaids look uniform standing up beside the BRIDE, everyone tends to look better, everything is neater, the pictures are flawless and most importantly the BRIDE stands out and is set apart. Guests are not looking at all of the differences in the bridesmaids dresses but instead at the BRIDE. There is another benefit to this bridesmaids look… the guesswork is gone, there are no surprises! Nothing to worry about, nothing to be upset about the day of the wedding or even after. It takes the element of drama out of your big day.
So how do you achieve this? Traditional bridesmaids companies offer sizes from 0-women's sizing. You can find junior dresses, maternity, even flower girls that match. You can get extra fabric to match to use for whatever you like. Whether it is the same dress or different dresses within the same color, your options for color and fabric are plentiful!
The next trend we are seeing is sleek lines. Simple designs with fabric that is not flowy but rather opaque, appearing sophisticated and sexy! The Bari jay stretch crepe, gives that look and looks great on all shapes. Simple lines and flattering silhouettes. Less fabric makes for a cleaner more timeless look. And once again the BRIDE is front and center. We might add these sleek opaque fabrics like Bari Jay's stretch crepe are super comfortable! Sequins are out… the new shiny is just in the fabric and with that brings comfort and not scratchy sequins.
And of course we have to mention color trends… dusty colors are still the rage. A light lavender like Bari Jay Thistle stretch crepe, rosy mauve like Bari Jay's Rose chiffon. Dusty blues such as Bari Jay Slate. Burnt colors like a rust and Bari Jay Mustard. The last and growing color seems to be green such as Bari Jay's stretch crepe Deep Pine or light like Sage! Click here to see the new collection for yourself!