Nearly 40% of all couples choose to get married in the Fall. If you are planning a Fall wedding too, then you may be wondering about the best Fall bridesmaid dresses on the market today.
A fall wedding is the perfect opportunity to take advantage of the deep hues and the gorgeous colors that sweep the landscape. From deep shades of red and orange, to golden beige, the colors that fall brings are beautiful. Choosing the colors you wish to theme your fall wedding around can be difficult at first, which is why we have pulled together the most popular fall color bridesmaid dresses to suit every style. Regardless of what fall decor you choose, we can help you find the perfect fall bridesmaid dresses to compliment your theme.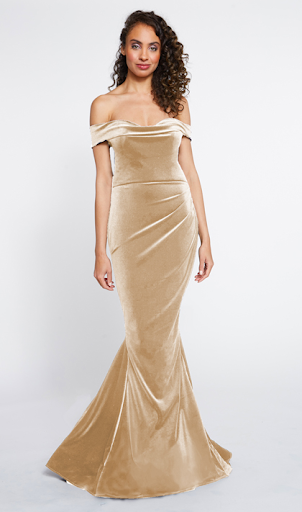 1. Style 2257
One of our most popular bridesmaid dresses for Fall is Style 2257. This is a beautiful slight sweetheart gown with an off-the-shoulder bodice, a mermaid skirt, diagonal rouching and horsehair hem. This dress is modest and elegant and is incredibly flattering for all body types due to the cinched-in waist.
When it comes to Fall bridesmaid dress wedding colors, beige is one of the most popular. This dress comes in 15 different colors, but the beautiful beige color is unmatched in this style. Your bridesmaids will look like Greek goddesses in this gorgeous shade.
2. Style 2255
If you are searching for a classic and beautiful bridesmaid dress for fall, then Style 2255 is perfect for you. This is our off-the-shoulder cowl draped bodice with a pleated horsehair hem skirt. This dress is form-fitting and hugs curves in all the right places.
The off-the-shoulder look makes it perfect for showcasing a beautiful necklace or simply highlighting the collarbones. This dress stands out beautifully in the shades of Ivory and Navy. This style is in our Lux Stretch fabric, but you can also check out Style 2257 for a similar look in velvet.
3. Style 2250
When it comes to our Fall wedding bridesmaids wedding dresses, Style 2250 is one of our most popular choices. This style is a stunning, one-shoulder dress with pleats and a mermaid skirt. The one-shoulder design gives this dress the perfect amount of coverage.
The lux stretch material of this dress looks incredible in the Pine shade. Pine and other shades of green are go-to fall wedding colors. Because green and gold go so well together, consider giving your bridesmaids a pair of stunning gold earrings to pair with this dress.
4. Style 2271
Looking to add a little extra sparkle to your bridesmaids fall dresses? Check out style 2271. This glitter-knit sweetheart gown with a trumpet skirt and horsehair hem is sure to make your bridesmaids stand out. The neckline gives your bridesmaids an elegant, exposed shoulder and décolletage look. Although this dress looks amazing in any of the 8 available shades, black is one of the most popular trends for fall bridesmaids. The contrast between the dark color and the glimmering sparkles is unmatched. If you are looking for something a bit lighter, then the Blush and Grey shades are also popular choices.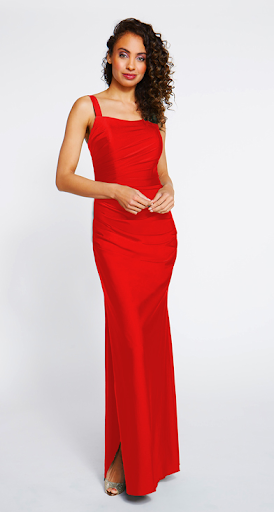 5. Style 2256
Style 2256 is another perfect choice for your Fall wedding. This stunning gown has a fully ruched scoop neck with a side-seam slit that will keep your bridesmaids comfortable all night long. The ruching is very flattering and gives the illusion of a cinched waist.
This dress comes in 15 colors, red being one of the most popular. If you want to consider incorporating shades of red into your autumn wedding, then consider complimenting it with colors such as peach, olive green, and champagne.
6. Style 2259
Another one of our velvet bridesmaid dresses, Style 2259, is sure to impress your guests at your fall wedding. This gown has a deep v-bodice with an open halter back and a trumpet skirt with horsehair hem. Style 2259 is a little more revealing, so make sure your bridesmaids are comfortable with a deep v-neck.
Despite the plunging neckline, the halter top will keep everything safe and secure through dinner, dancing, and drinks. This dress looks gorgeous in navy and pairs well with golds and greens.
7. Style 2254
Made of our luxe stretch fabric, Style 2254 is simple yet beautiful. This is a spaghetti-strap, princess seam gown with adjustable bow-back straps. The dress is simple in the front, with just the right amount of flare from the bow in the back.
If you are thinking about incorporating pink into your fall color scheme, then this is the gown for you. Our Pink Rose shade will have your bridesmaids feeling like princesses. This gown looks incredible with gold accessories and greenery in the bouquet.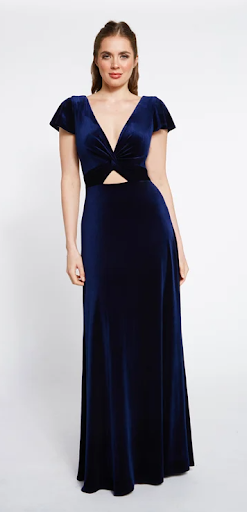 8. Style 2258
If you are searching for a bit more shoulder coverage, then check out Style 2258. This gown has a cap sleeve cutout twist bodice to an A-line skirt. The twist-front and triangle cutout in both the front and back give the dress a flattering and unique flair.
The velvet fabric of this dress looks incredible in the Navy shade, although there are 11 colors to choose from. If you like this style but aren't a fan of the cut-outs, then take a look at Style 2218. This fall color bridesmaid dress is the perfect deep shade of blue that will compliment your fall wedding decor.
9. Style 2268
If you are a fan of glitter, then look no further than Style 2268. This sparkly princess-seam gown has a deep v-neck and a corset lace-up back detail. This dress hugs your bridesmaids' curves in all of the right ways and draws attention to the back area in a beautiful and tasteful way. his is the perfect way to add more sparkle to your fall bridesmaids dresses, adding to how special your day is going to feel.
Navy is one of the most popular shades for Style 2268. Blush, burgundy, copper, and gold are all popular pairings for a navy-centered color scheme.
10. Style 2252
Style 2252 is classy, cute, and comfortable. This gown has a deep v-neck bodice with a tie-back halter, a pleated skirt, and a slit. The top is pretty and elegant, and the slit in the bottom allows your bridesmaids to show a little leg.
This dress comes in 15 different shades. The Navy, Dusk, and Wine are a few of our most popular choices for a fall wedding.
Get Your Fall Bridesmaid Dresses From Bari Jay
Any one of our Fall bridesmaid dresses are sure to make your girls look beautiful on your big day. You can't go wrong with any of these styles from Bari Jay.
If you have any questions or concerns regarding our dresses, then feel free to check out our FAQ page or contact us directly.