Would you like your bridesmaids to wear infinity dresses? Or perhaps you have chosen an infinity dress to wear on a special occasion, and you are not sure how to wrap the infinity dress.
An infinity dress is a long gown that can be adapted to a variety of different styles to suit different occasions or themes. They are perfect for bridesmaids, mother of the bride or groom, or even just a formal occasion. You don't need to purchase anything extra, the dress comes with everything it needs to be worn in over 30 different ways. It is made from a comfortable material that makes it easy to change as much as you desire. Whether you are looking for the perfect grey bridesmaid dress, or a brightly colored gown for a night out, infinity dresses come in range of colors to choose from.
Why You Should Choose an Infinity Dress
The great thing about an infinity dress is that it looks good on all body types. If you are a bride looking to add a unique touch to your wedding, you can have all of your bridesmaids wear the infinity dress in ways that match their personalities, or personal styles. This enables you to combine uniformity with an element of interest. You can also purchase infinity dresses in a range of different colors, so you can customize your bridal lineup to suit the wedding theme and decor, and make your day even more special. Infinity dresses can also help you add a sustainable element to your wedding, as their quality and versatility enables individuals to wear them beyond just the wedding day.
Infinity Dress Materials
Not only does the infinity dress present you with a variety of options to style the dress, but you can also purchase the dress in different materials and colors to suit your wedding theme.
The most popular materials that you can find an infinity dress in are the lux stretch and velvet. The lux infinity is made from a new stretch fabric created by Bari Jay, to provide you or your bridesmaids with a fit that looks natural and effortless. The materials create a flattering silhouette with its modern and luxurious design. The velvet Infinity dress is the perfect way to make a statement, with its eye-catching and soft material. Its unique texture provides your bridal party with great variation.
The infinity dress is also known as a convertible dress or a wrap dress and is an extremely popular choice, due to its versatility and beauty. To help you dress up appropriately for your special occasion, or create an interesting bridal lineup, here are some of the best ways that you can wear your infinity dress.

How to Tie an Infinity Dress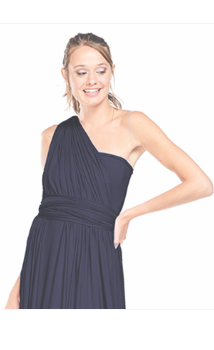 Over the Shoulder
A one-shouldered design is a great way to draw attention to the bridesmaid's upper body. It is a smart and contemporary style to choose from. Simply place both straps over one shoulder. Take one strap around the front of the waist, and one around the back. Cross the straps over and then bring them to meet at the back to tie a knot and secure the style in place.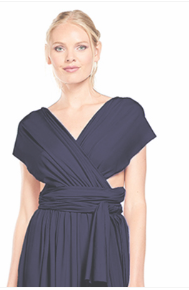 Sleeves
Wrapping the infinity dress to create sleeves is a very beautiful and traditional look, with a slight twist. Start by taking each strap over opposite shoulders. You can then simply wrap the straps around the waist a couple of times and tuck the strap into the front of the belt.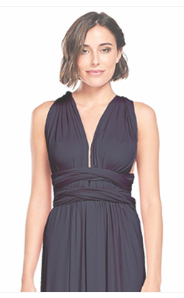 Closed Halter Neck
This simple closed halter neck is an elegant style to choose from. Take both straps, and hang them directly over the shoulders, being cautious to keep them wide. Take the straps by the side, and give them a little twist to create a thinner band to go around the waist. You can wrap them around the waist once or twice, leaving a gap in between. Tie a knot in the back.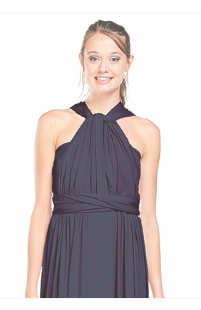 Knotted Front
This is a stunning style that creates a little interest with its unique look. Take both straps at the front of the body. Bring them up to cover the chest, and then tie a knot close to the neckline. Take both straps around the back. Here, you can add a few twists, or cross them over, before tying them around the waist to secure them into place.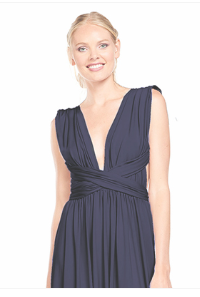 Open Halter
This is a beautiful modern style that shows more skin on the bridesmaid. Following the same instructions as the closed halter to start with. When you come to wrap the straps around the waist, simply do this lower down the waist, or cross them over at the front.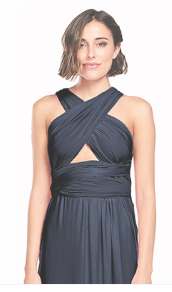 Cross Front
The cross-front style dress provides your bridesmaid with a sophisticated and charming design. Start by wrapping one loop around the waist. Then wrap a strap over opposite shoulders and cross them over again at the back. Wrap the two straps around the waist to help secure into place.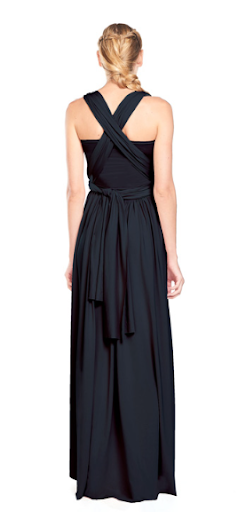 Upgrading Your Style
With each design, you can simply wrap the straps around the waist and tie a knot. To upgrade your dress, there are a few additional steps you can take. For example, you can tie a bow in the front or the back. You can also tie knots in the straps to create interest, and even cross the straps over at the back.
The amazing thing about infinity dresses is that you can style them in any way you desire. If you cannot find the style above, why not get creative and see what unique style you can come up with?
Step-By-Step Instructions on How to Tie an Infinity Dress
Infinity Dress Frequently Asked Questions
Can you wear a bra with an infinity dress?
You can wear a bra under an infinity dress. The type of bra you wear may have to change, depending on how you choose to style the dress so that you can hide the straps. For example, if you wear the infinity dress strapless, you may choose to wear a strapless bra. You can also opt for a bustier, bodysuit, or halter neck bra.
Can you upgrade your infinity dress?
The infinity dress is made to have everything you need to style it in over 30 different ways. If you wish to add a little extra and upgrade your infinity dress, you can do this by adding an overlay. This will take it to the next level, by adding layers and interest to the ensemble. This can be anything from chiffon to lace.