We've all got 'em-those go-to brands that we turn to like a trusty friend to satisfy our every fashion whim. For soon-to-be brides in the thick of planning, the Wedding Shoppe knows that Bari Jay is the best recommendation to complete everyone's wedding party attire checklist!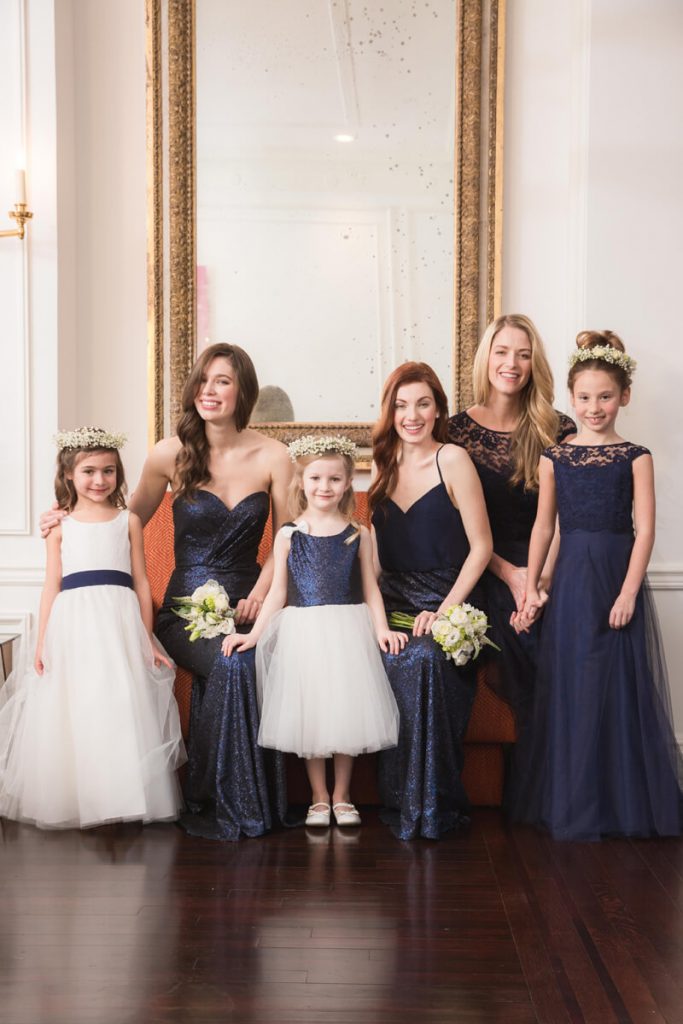 At the core of the brand is the desire to create dresses that flatter all shapes and sizes, making Bari Jay the ideal one-stop shop for every gal in your wedding party, from the bride down to the flower girls.
The folks at Bari Jay also appreciate the value of timeless design. As such, the frocks boast classic shapes and clean lines to keep them current from season to season, making it easy for gals to wear them again and again. That's not to say that the brand avoids trends completely; in fact, they're ahead of the curve. You'll find sequins, off-the-shoulder necklines, thigh-high slits, and plunging backs in their newest collections-just to name a few.
Perhaps most importantly, the Bari Jay brand is cost conscious, knowing that brides and members of the bridal party are nearly always shopping on a budget. Without sacrificing quality, the brand is able to offer rich materials and sturdy craftsmanship at wallet-friendly prices.
Right about now, you're probably thinking, "Bari Jay sounds fab! So, where do I begin?"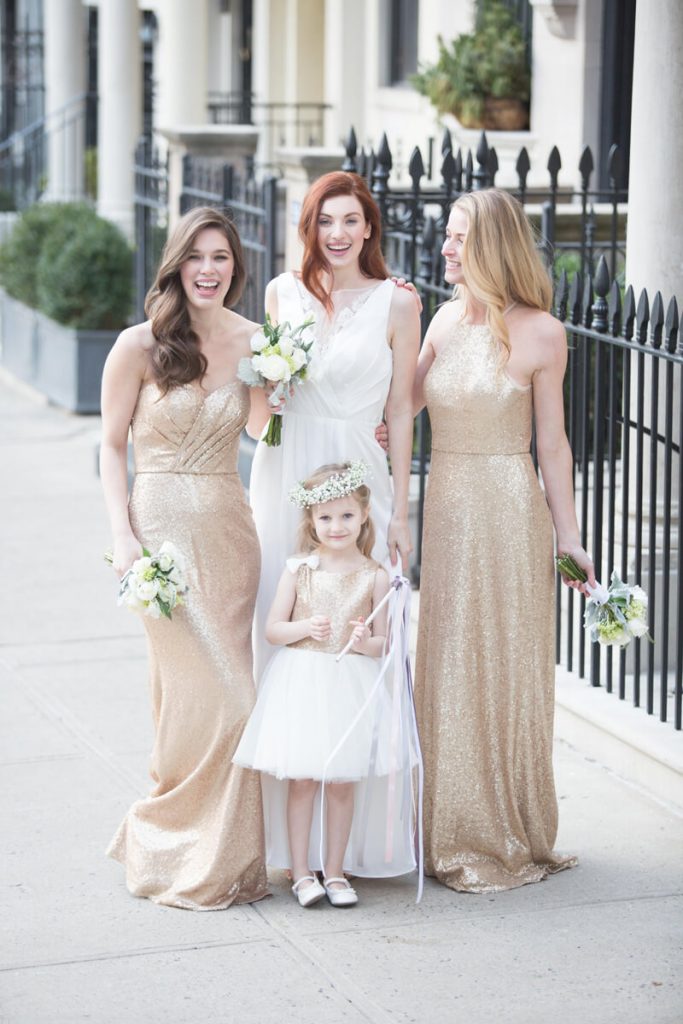 First, choose your wedding day style. Are you beachy bohemian, or are you elegant glam? Will your fete be a casual daytime event, or a nighttime formal with guests dressed to the nines?
Next, choose your color story. Keep your setting in mind, and be sure to infuse your own personality. If you normally prefer bright, bold hues, an all-black wedding party may fall a little flat. Lucky for you, Bari Jay's color arsenal boasts over 50 shades in total, so there's something to satisfy every desire.
Got all that? Excellent. Now it's time to choose the goods. Below, we've broken down the current wedding trends and how to outfit yourself and your gals for each, including some of our favorite Bari Jay selections, (most of which you can find at the Wedding Shoppe!). Read on for more!
#Trending Wedding Party Attire Checklist with Bari Jay
Glitz and Glam:
Not for the faint of heart, sequins add a hefty dose of glamour to any wedding party style. Because of the heavy structure, sequins are best kept to the cold weather months, and are particularly fitting during the winter holidays.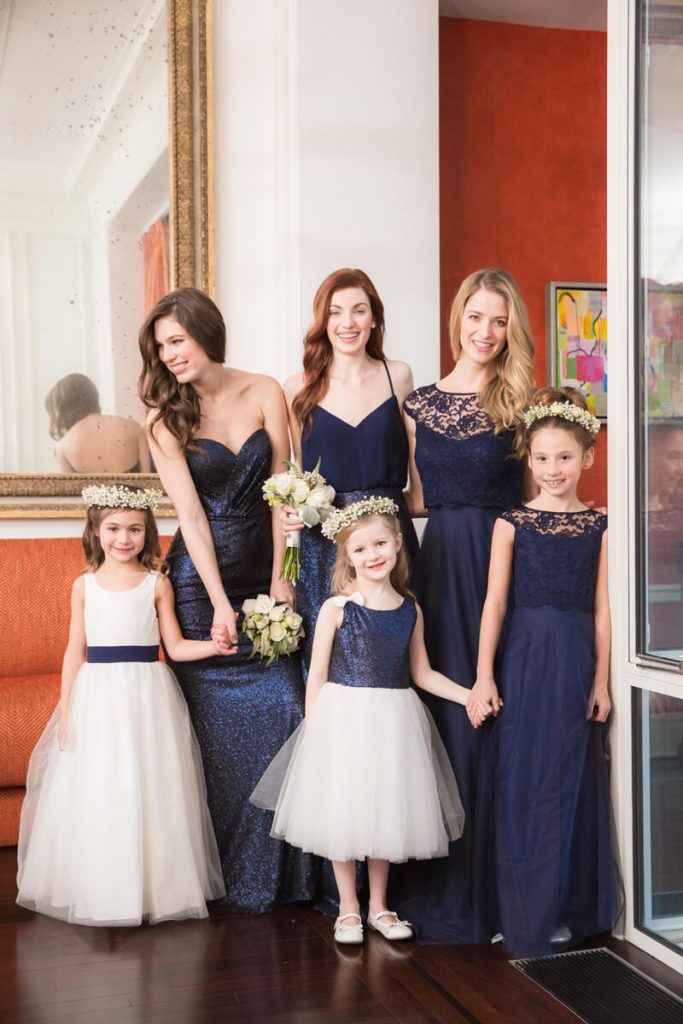 How to style:
Mix & Match:
Is there anything hotter right now than a mismatched bridal party? For that oh-so-perfect mix-and-match look, feel free to play with colors, necklines and fabrics-the options are endless!
For the purposes of this post, I'll show you how to mix across all three categories, but feel free to take it down a notch depending on your personal style. For example, one cohesive bridesmaid dress style that incorporates a range of tones within one color family, like dark and light shades of blue, or a single hue across gowns with varying necklines.
How to style:
Bride: Since the name of the game is mix-and-match, there are no hard and fast rules for the bride here, but I personally love the Bari Jay 2052 bridal gown, a dreamy lace creation that perfectly complements the bits of lace in the bridal party's frocks (more on that in a sec).
Bridesmaids: I also love a good range of purple, a regal tone that screams sophisticated elegance but maintains that girlish feel, so let's start there for our bridesmaids' color story. Mix up a couple of flowing chiffon styles, like the Bari Jay 1672 and the Bari Jay BC-1660, with lovely lace creations, like the Bari Jay 1609. Opt for varying shades of eggplant, purple and orchid.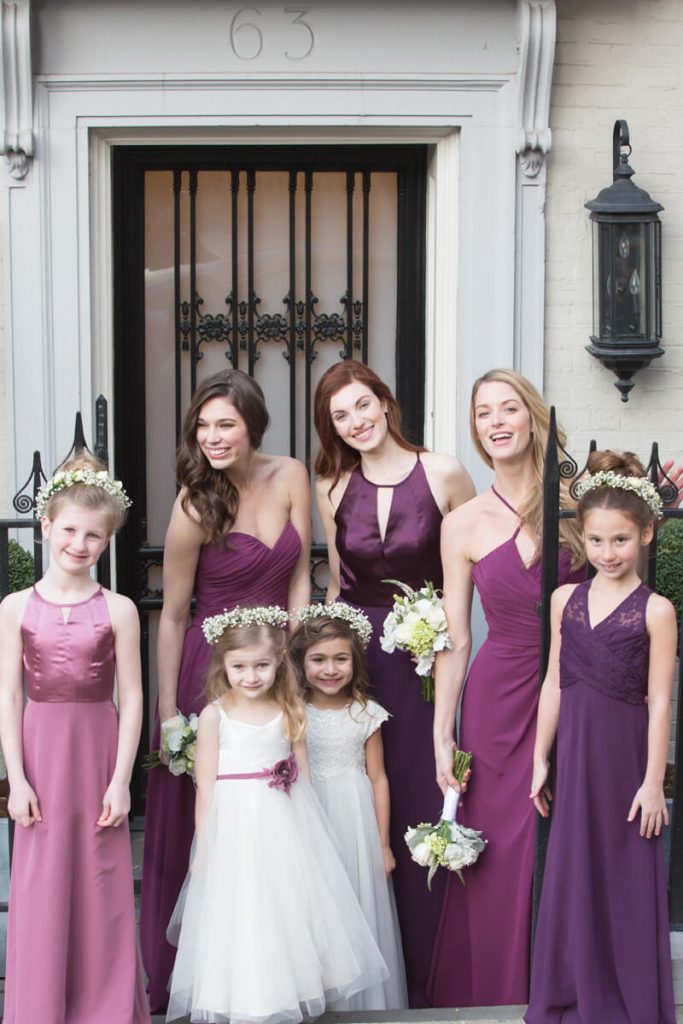 Junior Bridesmaid: For the junior girls, continue the contrasting visual effects with the Bari Jay 20920, which mixes matte chiffon with shiny charmeuse and is also available in the trio of shades listed above.
Flower Girls: Little ones can get in on the fun, too! With the Bari Jay F5716, a teeny tiny lace-and-chiffon number, you'll have the option to choose a waistband and detachable bow in a coordinating purple shade.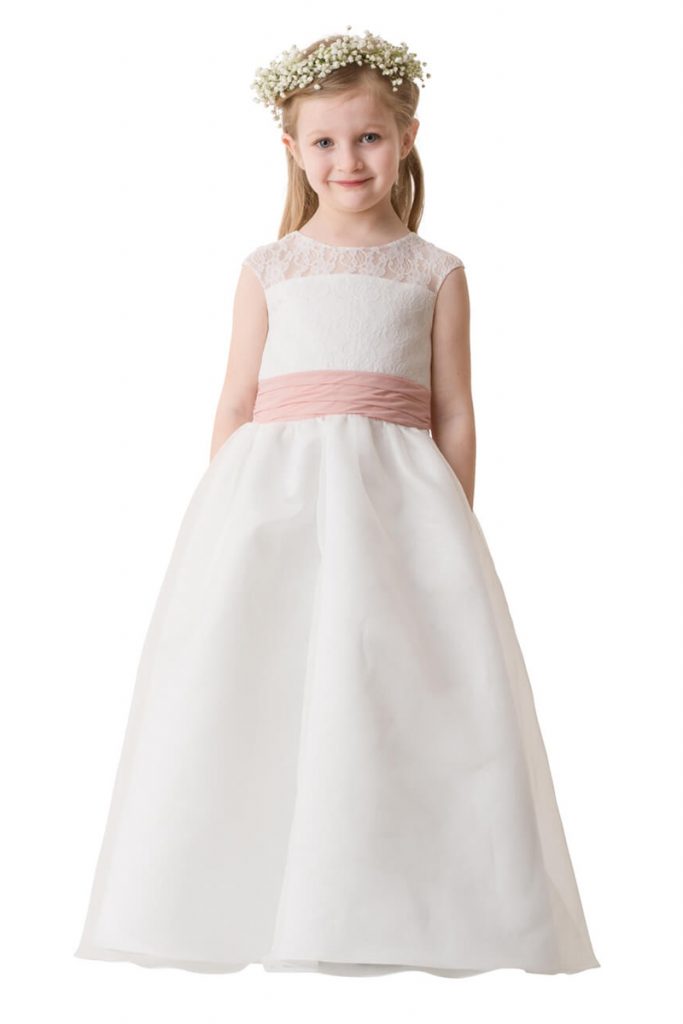 Trending Colors:
Tap into the trend of the moment by choosing one of the ever-popular Pantone 2016 Colors of the Year-Rose Quartz, a girlish pale pink, or Serenity, a sky blue hue-to anchor the wedding party.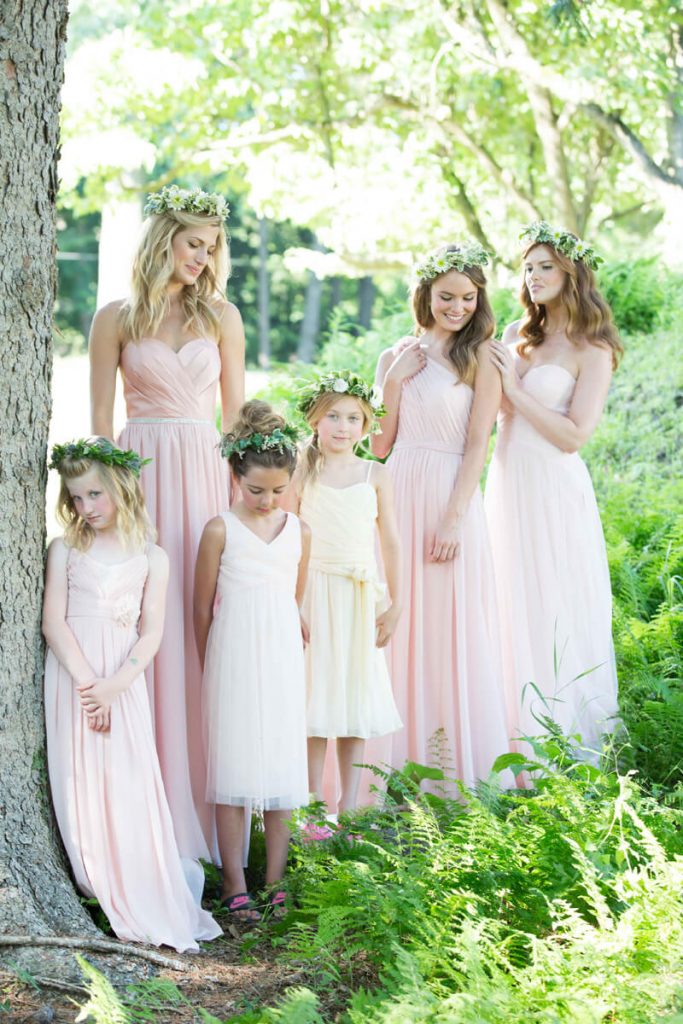 How to style:
Beach Wedding Attire:
For that easygoing beachy, bohemian style, laid-back elegance is the name of the game. Think flowing layers in lightweight fabrics and a coastal color palette, inclusive of ocean-inspired shades of blue and neutral earth tones.
How to style:
Bride: Thankfully for the bride, comfort is key as far as boho dressing goes. Opt for the Bari Jay 2047, a breezy chiffon style with relaxed sheer cap sleeves.
Bridesmaid: Choose a complementary style for the bridal party, like Bari Jay 1452, a similarly relaxed A-line gown with layers of airy chiffon. Go for maritime-inspired navy, earthy beige or stoney-hued shadow, or mix 'em up for an on-trend mismatched bridal party.
Junior Bridesmaids: Outfit your junior bridesmaids in the Bari Jay 20553 chiffon sheath for lightweight movement in matching navy, beige or shadow hues.
Flower Girls: For the tiniest boho babes, there's the Bari Jay F5316 flower girl frock, which boasts a lace bodice, cap sleeves and an A-line skirt in carefree layers of tulle.
A Black and White Affair:
With the rising popularity of golden decor accents, a black and white bridal party provides the ideal backdrop to allow those details to really shine. As the palette is the pinnacle of elegance, keep the shapes classic and structured to maintain an upscale feel.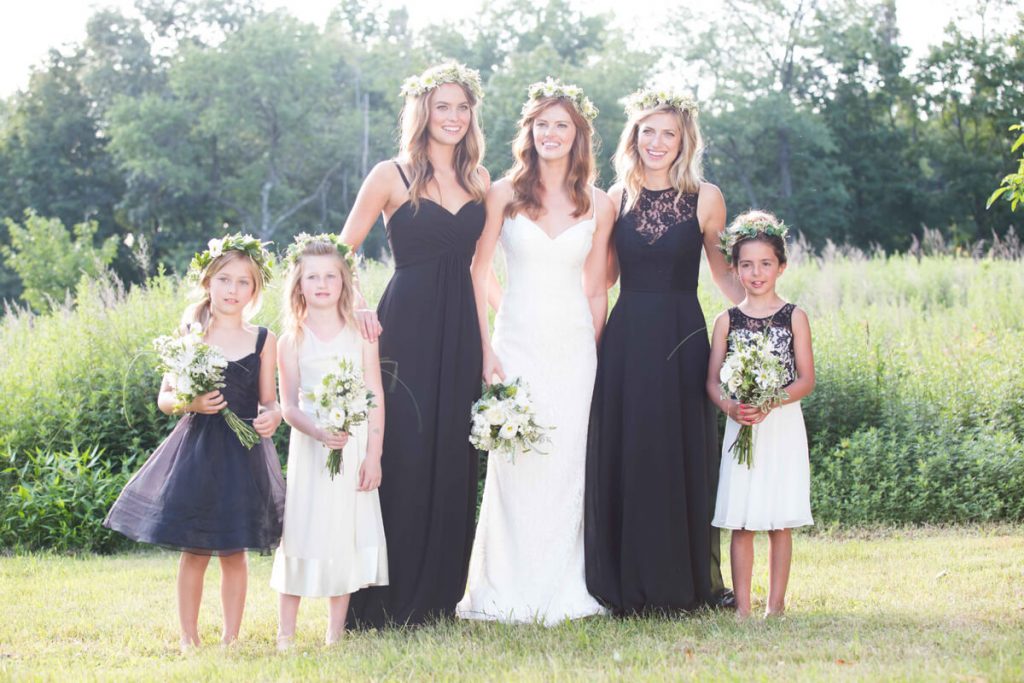 How to style:
Bride: With its timeless A-line cut and traditional English net and lace fabrics, the Bari Jay 2053 is the optimal choice for the classy, sassy bride.
Bridesmaids: Bedeck the girls in sophisticated all-black styles, like the Bari Jay 1612 or the Bari Jay 1630. Because we're dealing with an absence of color here, feel free to play with texture, like lace or sequin detailing, to really up the wow factor.
Junior Bridesmaids: Dress them in black as well with the Bari Jay 20867, a classic shape with crisscross detailing on the bodice, a visually appealing extra detail.
Flower Girls: Throw a bit of white back into the mix with the flower girls' garb. The Bari Jay JS-F5816 in white satin and chiffon with a black pleated waistband is the perfect fit!
With tons and tons of bridal party duds on offer, this is just the tip of the iceberg. Heed our styling advice or venture out on your own, but either way, rest assured that Bari Jay will outfit you and your gals in style! Your wedding party attire checklist is soon to be complete!