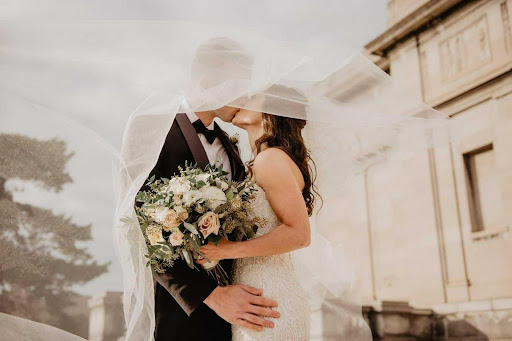 Your summer wedding colors are among the defining aspects of your special day and just one of the biggest trends that you should consider. The palette you choose sets the tone for the celebration. In the upcoming summer 2023 wedding season, people are ready to move on to something new.
A color palette affects your wedding's theme and mood in a huge way, even if it's a small wedding. So, your color scheme is one of the first things you want to ensure you get right when planning your wedding. It affects everything, including floral arrangements, attire and décor. If you're unsure where to start, here's a run-down of the 2023 trending summer wedding colors.
1. Berry-Themed Wedding Color Schemes
Combinations of reddish and purple tones, such as cerise, mauve and fuchsia, are set to take center stage in the coming year, especially for summer weddings. Following their use by many designers in 2022 spring/summer fashion collections, these berry-like colors are becoming increasingly popular.
A color scheme that features red, pink and purple colors will make your wedding vibrant and zesty, while maintaining an uber-romantic touch. Such a color palette features distinct yet diverse shades that marry the unexpected with the familiar. Adding a turquoise or yellow accent color dials up the energy of your summer wedding color scheme in 2023.
2. Dusty Rose Pink
Dusty rose is becoming increasingly popular and will take the spotlight as one of the top trending wedding colors of 2023. It's a gorgeous, warm color that complements most skin tones. You can contrast it with grays, greens, golds and peacock blue or match it with champagne or other softer looks. This subtle pink color is slightly darker than blush with more brown undertones. It goes well with modern and classic styles depending on your choices for décor and floral arrangements.
Dusty rose achieves an incredibly dreamy aesthetic with other pastel colors, such as sage green and lilac. If you prefer a garden-like effect, consider including a lot of fresh greenery and eucalyptus. When you pair dusty rose with pastel blue, it creates the classic wedding color scheme, which gives an impression of versatility and longevity.
3. A '90S-themed Color Palette
If you're feeling nostalgic, don't shy away from the fun, bold colors inspired by the '90s. No particular color dominates this trend. It's more about blending several colors to achieve a palette reminiscent of a rainbow. You can try a color scheme for your 2023 summer wedding based on a color block windbreaker or a Caboodles case you like.
If you need suggestions for a '90s-themed color palette, consider adding magenta, purple, teal, cerulean or fuchsia to your scheme. These vibrant colors perfectly complement other statement wedding trends, such as ombré floral arrangements, neon signs, and balloon backdrops.
4. Jewel Hues
Many couples prefer to wed during the fall. So, it's no surprise that wedding colors that reflect autumn are among the most popular choices for summer 2023 wedding colors. You can go for a rich combination of amber and wine. Use copious candlelights to keep things moody and dark.
Amber, hunter green, navy blue and other regal jewel hues are a brilliant choice for an outdoor wedding at a mountain ski lodge, equestrian estate, vineyard and other pastoral venues. Consider including details like gold flatware and velvet linens in your table decorations to give this warm color palette dimension and texture.
5. Soft, Dusty Blue
Dusty blue will reclaim its place in the roster as one of the top trending wedding colors in 2023. This color is one of the most preferred choices for spring weddings. Still, the color transcends all seasons and is versatile enough to fit almost all wedding themes. From the relaxed rustic wedding to extremely formal ballroom receptions, this pastel tone is unlikely to fail you.
On the one hand, a dusty blue color palette can stand on its own, thanks to its ample saturation. On the other hand, it pairs easily with other statement hues, such as yellow or pink, without overpowering them. Dusty blue is famous among brides because it's happy and vibrant.
Consider featuring dusty blue in your wedding theme details, such as flowers (hydrangeas and delphinium, say), wedding shoes, bouquets or perhaps a touch of blue eyeshadow. You can incorporate some hot pink and pale white peonies and roses into your centerpieces.
6. Metallic Wedding Color Schemes
You want your special day to effuse an undeniably glamorous aesthetic. One way to achieve that is with sparkly metallics, like our glitter knit collection, which also happen to be trending for summer weddings 2023. With so many weddings encumbered with restrictions in the past two years, people are out for fun.
Glitz and glitter put everyone in a party mood. A metallic color palette is an excellent option for an upbeat wedding. If you prefer a formal affair complete with a black-tie dress code, consider planning a wedding that features gold or sand, silver, ivory and black.
Match Your Wedding Colors and Wedding Theme
Trending wedding colors change as often as other wedding trends, such as fashion or flowers. Wedding planners predict that bright, vibrant colors will be the trend for 2023 weddings. Keep in mind that your wedding colors go hand-in-hand with your wedding theme. For that reason, you want to think about them together. Some colors evoke a specific vibe.
For example, you can achieve an eclectic boho aesthetic with a combination of burnt orange and marigold yellow. A black and white wedding color scheme achieves a more deluxe and luxury style. Couples who do beach weddings often prefer vivacious, neon tones, whereas garden weddings typically feature blush and light green combos. For a celestial, surreal look, consider a pale blue palette.
Create the Perfect Palette for With the Trending Summer Wedding Colors of 2023
It's no secret that certain color schemes often suit a specific season. However, that's not to say that you're beholden to these rules. There's no shortage of versatile wedding colors that work for every season, especially when you blend them with metallic tones or specific accent colors.
Bari Jay is a small, family-owned and operated business with a strong legacy of delivering beautiful wedding dresses for brides, bridesmaids, flower girls, maternity and more. Contact Bari Jay and order swatches, try samples and place orders for your summer 2023 wedding.